by USA Today Bestselling Author, Chelle Bliss
Released on January 26th - LIVE
Goodreads TBR:
EVERYTHING CHANGED IN AN INSTANT.
I thought I knew what was important, but one phone call sent my life into a tailspin.
Alone and afraid, I cling to the one man I shouldn't.
I was warned about him and told to stay away. "He's dangerous," they said.
But the man who could hurt me the most, gave me the greatest comfort.
"He's not who they think," I told myself.
But just like an illusion, things are never what they seem.
Right from the start I was hooked to the story not the fact that it was another amazing story by Chelle, it was due to the writing and the story itself. I was amazed how fast I was reading this story, I loved everything about it, the details, the characters, the story line, everything. With this not being my first time reading from this author I didn't know what was to come from the story as it's different from her other ones. The emotions this time were all over the place, I really felt for the main character on every page. I just kept hoping for something good to happen. The characters are strong each in their own way. You have Callie this young beautiful woman with her life ahead of her, then one day everything turns for the worse and nothing makes sense. Bruno, strong alpha, hottness, He has this super huge caring side that is so damn droll worthy. Them together had tears in my eyes, and my heart beating a mile a minute. I just couldn't get over them. The amazing chemistry they have is breath taking. They blew my mind the love, lies, and truth totally had me on the edge of my chair. I couldn't get over what the story was about it literally made my heart ache each and every time it was talked about, I could feel the pain the main character Callie was in and wanted to help her in so many ways. MUST READ Story by teh end of this semi small 2 person POV story I wanted more and craved so much more of Callie and Bruno that I was shocked to the core when it was over. I couldn't believe that it was over. I so wish I could talk about everything that happened in this story but I really can't I don't want to ruin such an eye opening and heart stopping story for everyone. Just know that the details are out of this world the story line is even better and better then ever before and of course like Chelle's other stories your left with wanting more and more. So wishing I could rate this story with more then 5 stars, the emotional level this story takes is one that really opens your mind. the journey all the characters embark on is over the top great and wonderful even more to read about and feel like your apart of that truly amazing journey. So worth the read over and over again. The cover to this story is hott and out of the world greatness. It really helped picture what the characters would look like and matched the story really well. To know what I mean it's just one of those things that you have to read to find out.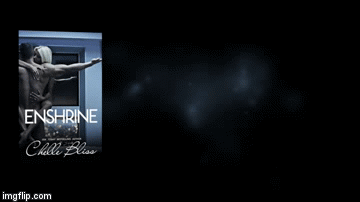 Available at the following retailers
ENSHRINE GIVEAWAY - OPEN INTERNATIONALLY
USA Today Bestselling author, Chelle Bliss, currently lives in a small town near the Gulf of Mexico in Florida. She's a full-time writer, time-waster extraordinaire, social media addict, and coffee fiend. She's written over ten books and has two series available. She loves spending her free time with her boyfriend, 2 cats, and her hamster.
Before becoming a writer, Chelle taught high school history for over ten years. She holds a master's degree in Instructional Technology and a bachelor's in history. Although history is her first love, writing has become her dream job and she can't imagine doing anything else.
***I received this story for free in exchange for an honest review***